What are First Party Reviews?
If you've ever been confused by the difference between third-party reviews and first-party reviews, know you're not alone.
We're here to clear up the confusion!
Third-party reviews refer to reviews on sites like Google, Facebook, TripAdvisor, Yelp, etc.
First-party reviews are reviews that a business can collect and publish on their own branded website. You Often it initially starts as internal feedback, but you can choose to take the star-rating and comment and publish it as a customer testimonial or review page on your company or location website.
How Do First Party Reviews Help Me? 
There are four main benefits to collecting and publishing your own proprietary reviews: 
SEO Performance
Reviews on your website can help improve your SEO performance. According to AdWeek, 800 words of review text can make up as much as 70 percent of fresh content for a website page, which search engines will reward with higher search results. This isn't to mention online reviews' other SEO benefits, like improved content density, better content differentiation, increased triggers for search engine crawlers, and improved ranking for long-tail searches.
Page Visit Conversion Performance
Product page visitors who read and interact with online reviews convert at a 58 percent higher rate than those who don't.
Revenue Conversion
Shoppers who read and interact with product reviews reflect an increase of 62 percent in revenue per visit. The average order value increases to 3 percent when shoppers engage with reviews.
Reputation on Display
Reviews can act as testimonials, so having those on your website makes your product or service look a lot more credible, and allow your potential customer to relate. 
How to Capture First-Party Reviews
We've made it really easy for you to start capturing your own first-party reviews in ReviewTrackers. 
When following this guide that walks you through how to compose a feedback email, just simply choose the following options when composing the ask for feedback email:
1. For "feedback rating type", select the "Stars" option
2. For "rating scale", select:
Ask customer for feedback: when rated 1-5 stars

Direct customer to leave a review: when rated 4-5 stars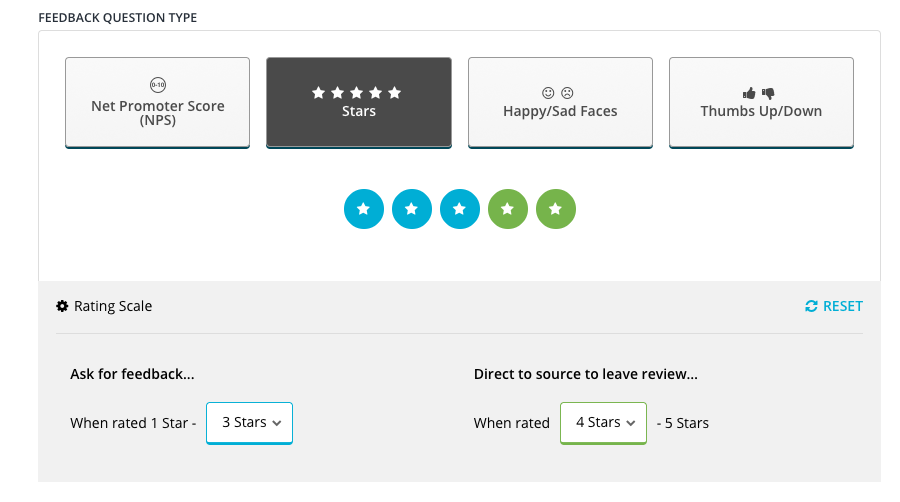 The default feedback rating scale is set to 1-3 stars for capturing additional comments when they're unhappy. But, by changing it to 1-5, you're able to capture positive ratings and comments for happy customers too. Which you're then able to turn into 1st party reviews! 
Note: If for some reason you do not see the four different options, please email support@reviewtrackers.com and we'll be happy to enable that on your account. 
How to Publish First-Party Reviews
While in the Ratings & Reviews section of your account, select your preferred location and date-range, then select "Feedback" from the source drop-down list to filter for just your feedback/first-party reviews. 
From here, you can click to export a CSV of all feedback data. Or, filter for just 4 & 5 star reviews. 
Use this file to publish on your website using your sites content management. We don't recommend using a widget, because you run the risk of limiting the SEO benefits. 


Our Recommendation
Negative feedback is just as important to your organization as positive is. Through the negative first-party reviews/feedback, your customers are providing you actionable customer insights that you can share across all levels of your organization and use to foster operational improvements. 
In addition, by publishing both positive and negative first-party reviews on your website, your customers will appreciate the transparency and you'll appear more authentic. 
We also recommend asking your customers for permission to publish their reviews. You can easily find their contact information within the feedback details. 
If you have any other questions, we're happy to help! Email support@reviewtrackers.com.