With our Amplify tool, you can display reviews on your very own website with simple display widgets! There are a few different widgets to choose from, and you can create as many widgets as you'd like. Once the widget is customized to your liking, we'll provide two snippets of code for you to place on your website.

NOTE: Amplify is available to customers on starter plans and up. If you're not seeing this feature in your account or if you're not sure which package you have, contact your Customer Success Manager at support@reviewtrackers.com.
Why Amplify your Reviews?
Adding user generated content (UGC), especially reviews, is a well-documented and powerful tactic for improving local SEO. Also, having all reviews in one place provides transparency and makes it super easy for a potential customer to learn about your business. There are also search engine marketing (SEM) benefits for your landing pages.
How to Amplify your Reviews
1. Create a widget.
Simply click on "Amplify" in the top navigation, and select the widget you'd like to create. Here are your options:


Testimonial Carousel: Hand-picked list of up to 15 reviews to be shown via a widget on applications like a homepage.


Location Review Feed: Summary snippet + List of eligible reviews for a given location.Users can filter reviews by rating/source, and sort by most/least recent. Feedback collected in ReviewTrackers (i.e. first-party reviews) can count towards SEO and improve your placement in Google search results.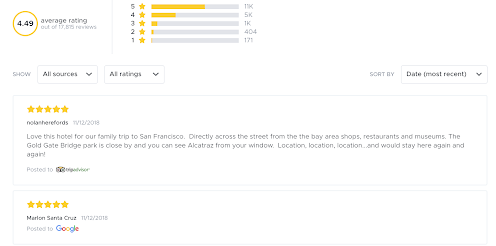 Star Snapshot: A small, location-specific average review score + count. You can click on the widget to see all the location's reviews (if you'd like). Also you can earn the SEO benefit from feedback (first-party reviews) just like in the location review widget.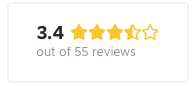 2. Customize the widget.
All the edits you need to make can be done easily in ReviewTrackers.
3. Insert the code on your website.
Once you place the code on your website, you'll see the widget displayed on your site. Don't worry if you make any edits to your widget, you won't have to update the code! The widget will automatically update for you, ensuring that the latest and greatest is accurately displayed on your site.
Additionally, Location Review Feed and Star Snapshot widgets can be configured once and deployed to multiple locations for accounts using external IDs.
Frequently Asked Questions
Q - Can I only show positive reviews on my Amplify widgets?
A - You can on the Testimonial Carousel widget! You can't on the Location Review Feed widget or the Star Snapshot.
Q - Is there an additional cost associated with Amplify?
A - Currently, Amplify is included with Starter, Essential, and Platinum subscriptions (not Lite). If you'd like to upgrade, or if you're not sure what package you have, contact your Customer Success Manager at support@reviewtrackers.com.
Q - Are all 3rd party sources eligible for display?
A - No. Depending on each 3rd party review site's terms of service, they may prohibit republishing of reviews. As of now, only Yelp is being filtered out and not eligible for re-publishing.
Q - Some reviews contain profanity, how is that handled?
A - Currently we prevent reviews that contain 'FCC-ish' profanity. Basically if you can't say it on network TV, we'll do our best to prevent it from publishing to the widgets.
Q - Is displaying reviews HIPPA compliant?
A - We are republishing reviews that are already publicly available on the internet, so there is no HIPPA violation. Since you are able to hand select reviews, you can also ensure you're selecting reviews that are more vague in nature and do not include any personal details. You will also want to make sure you do not select any first-party reviews that come from feedback collected via the Ask Tool.
Q - Do I need a tech team to implement this on my website?
A - No, it is very easy to implement and only involves copying/pasting some code.