Creating a custom template is one of the easiest ways to give your feedback and review requests a consistent brand voice. ReviewTrackers allows you to customize not only the copy of your request, but also the image and logo.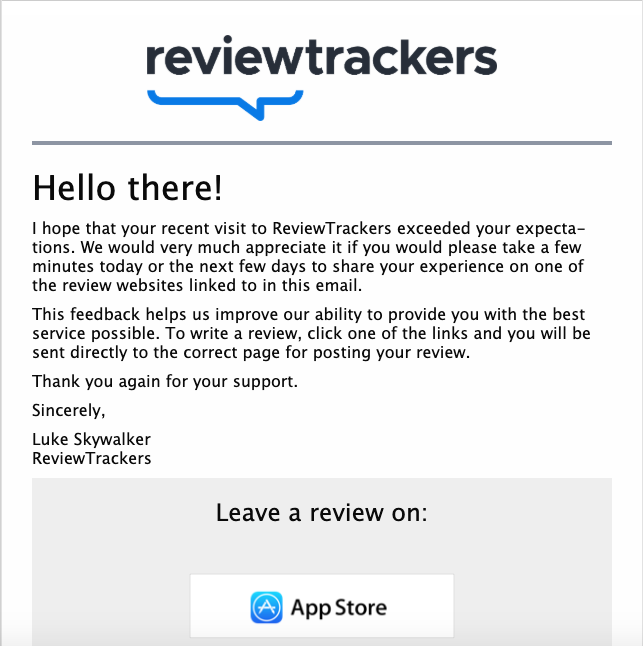 Read below for step-by-step instructions and important information on how your request templates work.
Who can create a custom template?
Only an individual with the permissions level of Admin or Manager can create a new template.
If you're unsure of your role, email support@reviewtrackers.com and we'll be happy to help.
How do I create a custom template?
In the "Ask Tool" section of ReviewTrackers, you'll see a "Templates" tab. From here, you can choose a template to "Clone". This will make an exact copy of the selected template for you to edit. You can also start from scratch by creating a new template.

Now you can edit the template in the following ways:
Update the template name

Assign the template to a location/group

Update email subject line

Add an image/logo

Update request copy
Image/logo location and sizing:
The image will appear as a header image at the top of your template.

The recommended image size is 600 pixels wide and 200 pixels tall.

If the image is:

wider than 600px, it will shrink proportionally to 600px wide.

taller than 200px, it will not adjust.

smaller than these dimensions, the image will be centered and the size will not adjust.
The last step is to select the "Next" button at the bottom of the page to save your new template for future review and feedback request campaigns.
Please email support@reviewtrackers.com if you have any additional questions.