At ReviewTrackers, we are HUGE fans of organization and analysis. This was one of the main reasons that we built review tagging for our customers.
By adding tags to individual reviews — and filtering data by tags — users can improve efficiency, creatively organize customer feedback, and extract smarter insights than ever before.
Tags have been an integral feature for many of our customers. For example, our restaurant clients are using tags to distinguish different areas of focus within the organization. Some examples of tags we commonly see used are: "catering," "staff," "cleanliness," and "cuisine."
What are tags/how do they work?
If you have the ReviewTrackers 'enterprise' plan, let your Customer Success Manager (support@reviewtrackers.com) know that you'd like to use the Tags feature. We will enable the feature, and you will be able to tag any review in your account!
Note: Review tags currently are only a part of the enterprise package.
Tags must be alphanumeric characters only, and tags will appear on the Reviews tab.
You can search and filter for tags in two different ways on the ReviewTrackers dashboard:
Use the search bar on the Ratings & Reviews page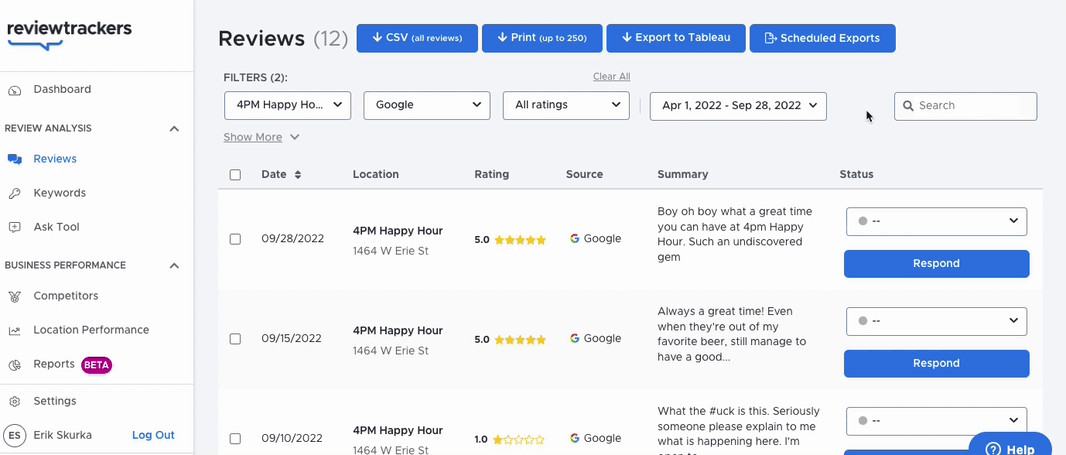 Click on the "Tags" section under "Settings":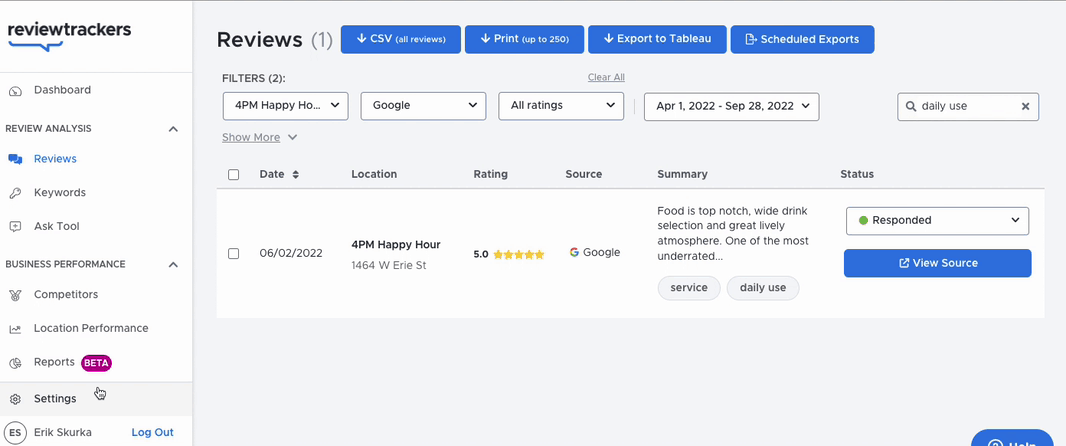 Download CSV to feature Tags:
If you were to download a CSV report from the Ratings & Reviews page, and you had Tags enabled, you'd be able to see a column on the CSV report for Tags.

From there, you can filter the CSV report and distribute the file across the organization, even to people whom may not be set up as "users" in ReviewTrackers!
Another way of looping in the appropriate people from within the organization would be to utilize @mentions!
Settings:
Admins of the account have control over managing Tags. Admins can login and manage "Tags" under "Settings".
We hope you enjoy this new feature! Happy tagging!
Please reach out to support@reviewtrackers.com if you have any questions!