We have recently added the ability to send Drip Campaigns through our Ask for Reviews section! This means that you can send a "reminder" email to those clients of yours that have previously received the review/feedback request and haven't clicked through yet.
Follow the below steps to access the Drip Campaigns feature.
1. Navigate to the bottom of the "Customize" section of your Ask Campaign.
2. Scroll down until you see "Send a reminder" and click the toggle to turn it on.
3. When the feature is turned on the toggle will be green and you can choose the correct amount of days for your reminder to go out.
4. Make sure the rest of your Ask campaign info is correct and hit "Send Campaign." After the selected amount of days your reviewer will get that follow up email if they never clicked through the initial request!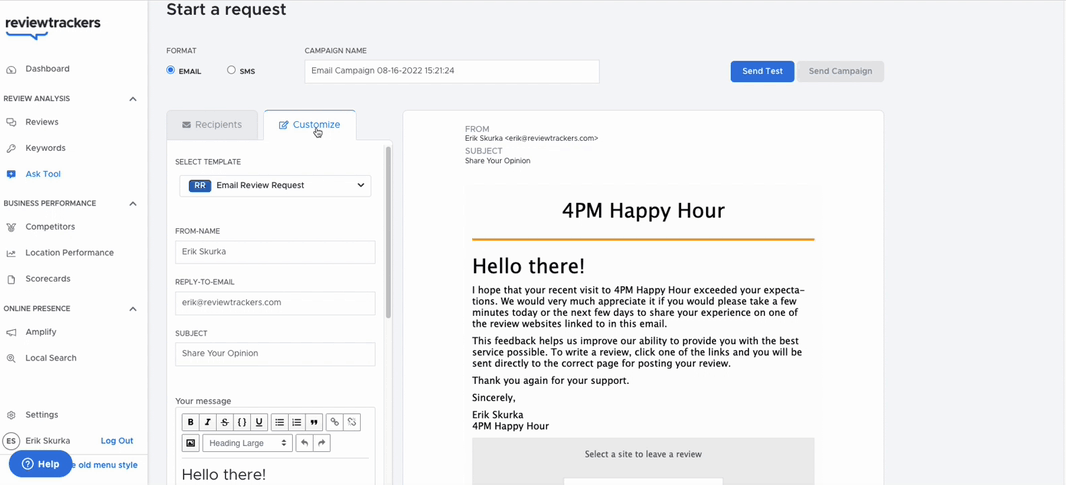 Feel free to check out our FAQ section about our Drip Campaigns feature for additional information.
Keep in mind that if you don't see this dropdown in your Ask Tool, or have any additional questions, you can email into support@reviewtrackers.com and we'd be happy to assist you!