Based on customer feedback, we learned that it's not always easy to detect which sites your business can benefit from getting more reviews. So we created "Smart Suggest", an algorithm that does the work for you by determining which sites the location needs the most attention for, and automatically suggests those to your customer.
In addition, instead of inundating the same few websites with new reviews, Smart Suggest helps your overall online reputation grow in a more organic way, by spreading the reviews across the different sites.
What exactly does the algorithm take into consideration?
The below factors are calculated for each individual location:
Review Volume
Sources with the most reviews are prioritized. This places the emphasis on sites like Facebook and Google instead of on less important sites like, say, Judy's Book and Merchant Circle.


Lowest Star Rating
Sources with lowest average star rating are prioritized to help increase your overall ratings on that site.


Date of Last Review
Sources with the least recent activity are prioritized in order to keep review data fresh: an SEO benefit.
Give it a try! Here's how:
When asking for a review via email or asking for feedback via email, scroll to the bottom of the text box. Simply select "Smart Suggest" and our algorithms will detect which sites will have the most impact for that location.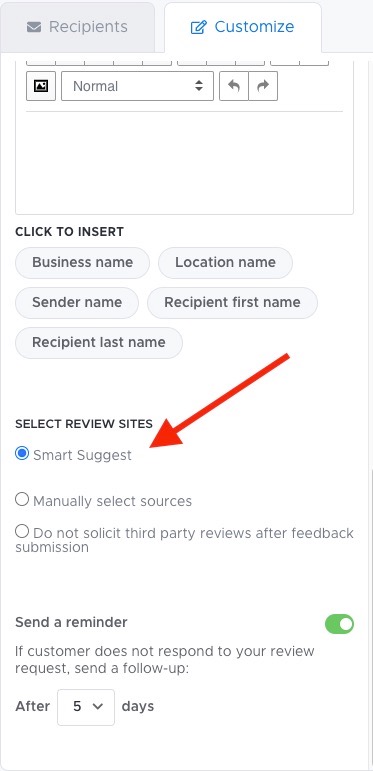 Here are other interesting things you should know about Smart Suggest:
Factors for determining which sources should be prioritized are recalculated periodically, so algorithms are always fresh.


If a location does not have enough review data (perhaps a newly opened location), then Smart Suggest uses account-wide data to calculate factors.



Industry-specific sites cannot override the above factors. However, if an industry-specific site falls into the above factors, then it will be prioritized. For example, if a physician has more reviews on Vitals and Healthgrades than Google and Facebook, it will be prioritized over those general sites.
Any questions? Contact your dedicated Customer Success Manager today; we're always happy to help!