Metrics based on sentiment that give you a deeper understanding of customer feedback.
Trending Keywords measure which words and phrases are mentioned most often in your online reviews and assigns a sentiment to those keywords. These are featured as a section on your dashboard and you can see the number of mentions of that specific keyword in parenthesis next to the word itself.

How does it work?
Keywords are broken into two different sections: Positive and Negative.

Trending Keywords are also interactive. Click any keyword and you're brought to the Reviews tab to see a complete list of the reviews with that keyword. Click on the "View All Keywords" section on the dashboard to be taken to the Keywords Report page to view additional information on your keywords.
Trending Keywords surfaces the words and phrases that appear most frequently in your online reviews.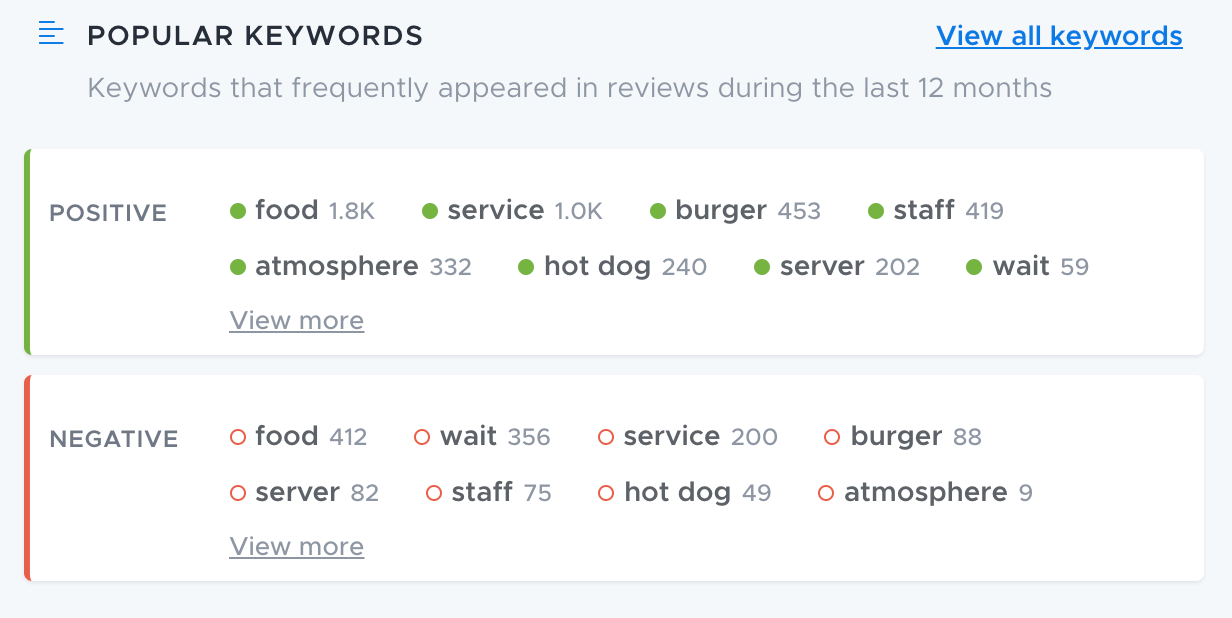 How can I use Trending Keywords?

The Trending Keywords section is a great way to draw actionable insights from your online reviews.

For example, restaurant owners will be able to see which menu items people are raving about, hotel managers will have a quick way to see which areas need more attention and retail chains will know which locations have the best customer service. All of these insights are lifted right from your reviews.
Keywords Report page
The dashboard isn't the only place you can check out your trending keywords. By navigating to the to Keywords in the left-hand navigation, or by clicking on the "View all keywords" link in the dashboard widget, you will be able to see all of the keywords analyzed by our artificial intelligence.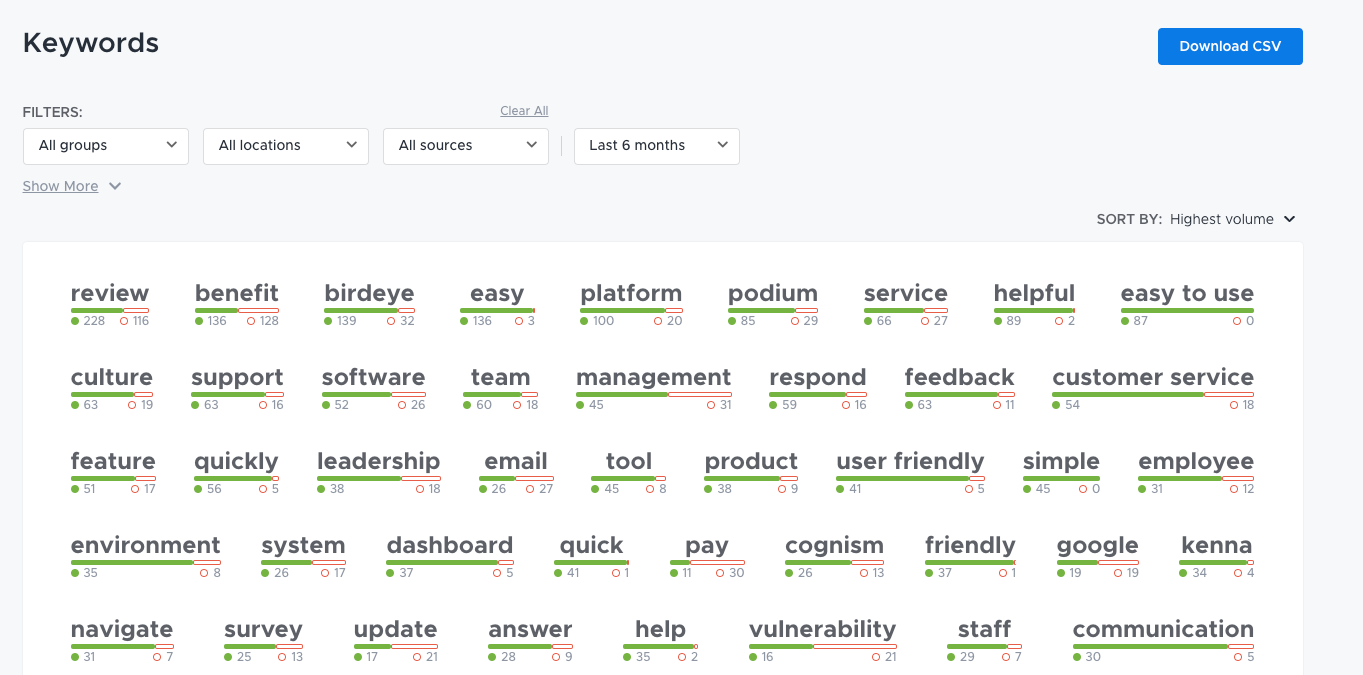 In this report, you can filter keywords by group, location, source, rating, sentiment and timeframe. This is a great way to zero in on specific keyword lists that you can use to inform business decisions and areas of focus. As always, clicking on each keyword will take you to the Ratings & Reviews tab to see a complete list of the reviews that generated this keyword.

Frequently Asked Questions:

How does your Trending Keyword system work?
We use NLP (natural language processing) technology to determine the relevance of the keywords. Essentially, instead of having a human read through the millions of reviews in our platform, we have a computer do it. We "trained" "our system by having it "read" hundreds of thousands of documents and after testing, found it to be more accurate in uncovering insights than comparable artificial intelligence systems like IBM Watson.

How do you determine the sentiment?
Sentiment is determined by an artificial intelligence engine, which also filters out a list of "stopwords" (ie this, that, and, etc.). Our proprietary algorithm then determines the most important keywords over a given time period, which appear in the Trending Keywords section of the dashboard.

The sentiment of the keyword is determined by the sentiment of a specific phrase or sentence, not the star rating of the entire review. For example, a trending keyword "steak" may appear as positive but is surfaced from a 1-star review like "I really love the steak here. It's too bad that their service is always terrible." Keywords are bucketed into "Positive" (green) and "Negative" (red) categories depending on the overall sentiment.

What does the number next to the keyword mean?
The count next to the keyword shows the number of times a phrase was mentioned for the brand, group of locations, or single location within the timeframe chosen in the filter navigation bar. It is not the number of reviews the phrase appeared in, because one word or phrase may appear twice in a single review.

How many keywords are tracked?
Trending Keywords on the dashboard shows the most popular keywords our natural language processing engine identifies in your reviews. You can see all of the keywords that are being tracked for your locations by visiting the Keywords report page.

What if I find a keyword's sentiment to be incorrect?
Your feedback is welcome to continuously improve the accuracy of our NLP. If you believe a keyword's sentiment is being tracked incorrectly or should not be considered a keyword, you can click 'Report an issue' and submit it to our team for further review.