The Reviews tab is your "home base" for seeing and managing all review details in one centralized place. It's also home to the Export CSV and Print buttons which allows you to download detailed reports based on your search criteria.
Reviews are shown in a summarized format, categorized by the date they were collected (unless you choose to sort them differently.)

Note: Reviews are typically collected within 24 hours. However, some can be slightly delayed depending on the time of day the review was left and the possibility of reviews being filtered by major review sites.


Filter Navigation Bar
After clicking on the "Reviews" tab, start with the filter navigation bar.





The default data shown is for all locations in the last 30 days, but with the filter navigation bar, you can filter the data by group, location(s), review source, star rating, status, type of review, keywords and date range.
Download a CSV Report
The "Download CSV" button has moved to the Reviews tab, allowing you to filter your results by:
Group
Location
Review Source
Star Rating
Review Status
Review Type
Keywords
Date Range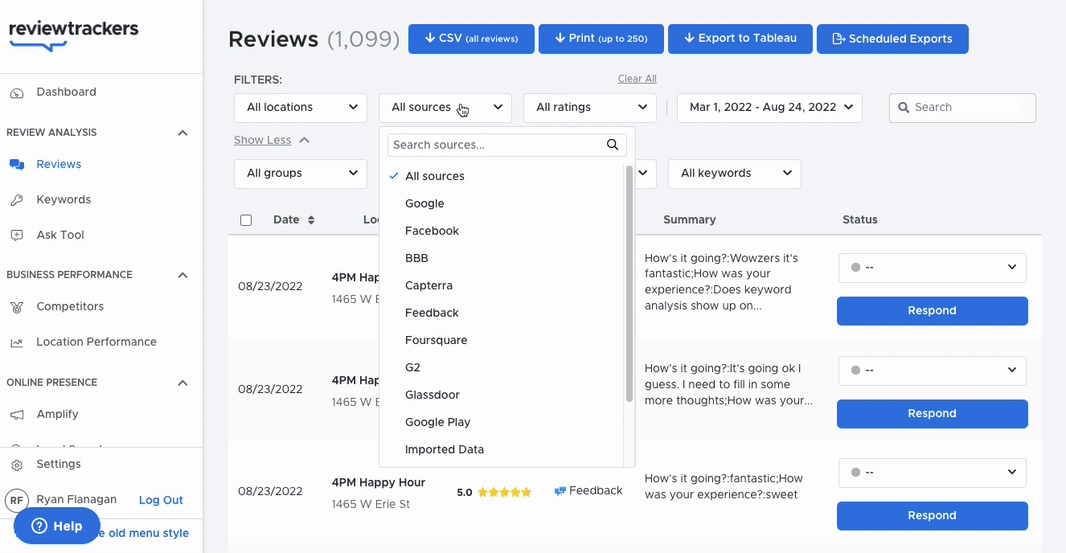 Downloading a PDF
You can also download the Reviews section as a PDF. Just use the filters to get the data you want and click the "Print" button. Then choose "Save as PDF" in the Destination section and you'll be set!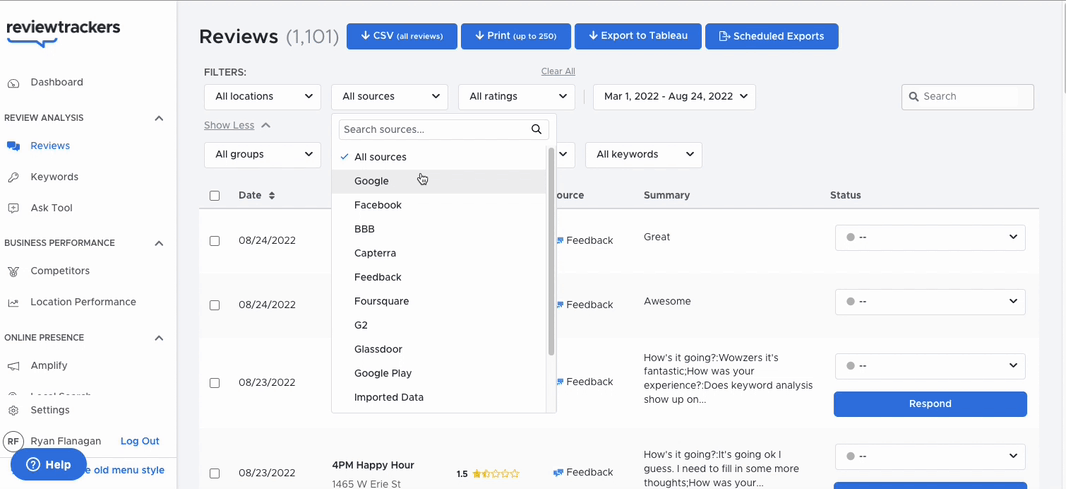 Label Reviews
Categorize reviews as In Progress, Responded, or Do Not Respond in order to help communicate what needs to be done. These labels can also be customized in your Settings.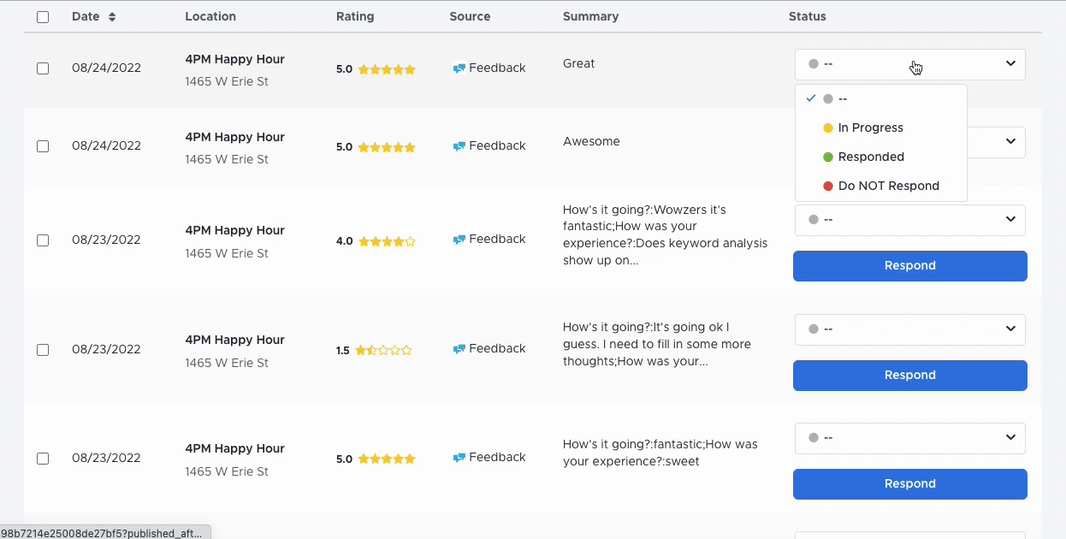 View the full review details
To view all of the information associated with a review, simply click the review of interest. This will take you to the detailed review.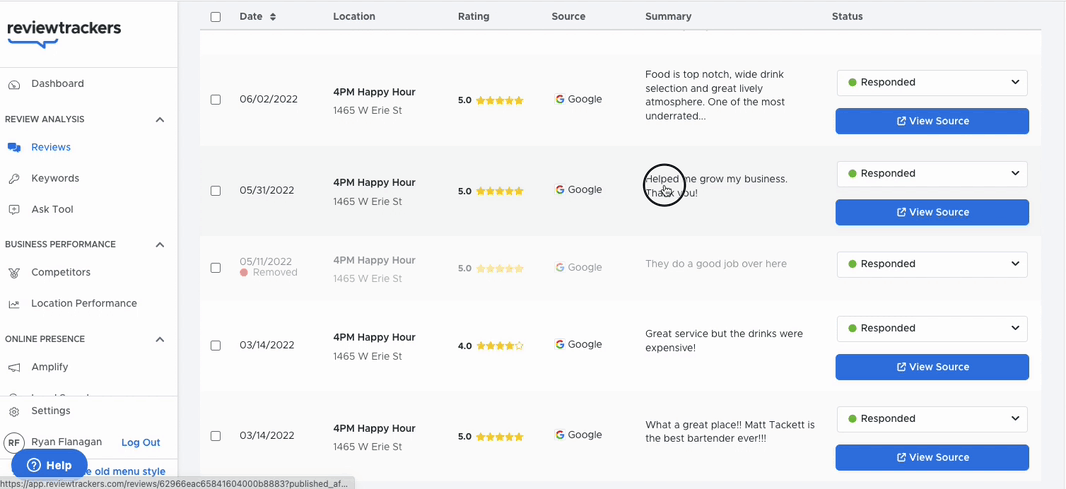 Here you'll see the location name, username of the reviewer, review title (if given), review comment, rating, and the source. There are also options to view the review publicly, record a private note and share the review in email form.

Responding to Reviews
For easy access to responding to reviews, click the "Respond on…" button.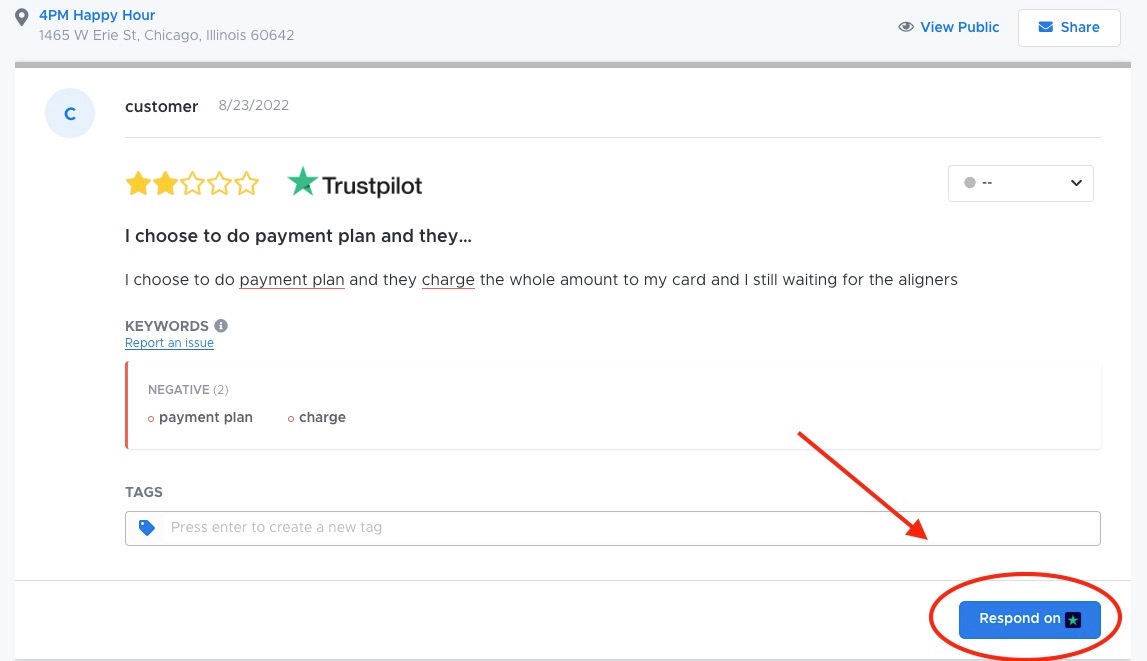 Note: Due to the terms and conditions of review sites, third parties are unable to sync directly with your secure login information or publish content on your behalf, which would otherwise allow you to respond to reviews directly from the dashboard.

Most review sites do not have specific URLs for each review left, which is why we don't always link directly to the individual review. However, you can use the date, username, or title of the review to find the review you'd like to respond to by hitting CTRL+F.
For information on responding to reviews for integrated sources like Google and Facebook, just check out our help article right here!

Pro-Tip: Claim Your Profile/Listing. Keep in mind that you can only respond to a review if you, as a business owner, have claimed the profile/listing. Claiming is also required in order to have the ability to edit and manage your business information, such as business name, photos, hours of operation, phone number, website, and more.

Not sure if you've claimed a profile/listing? Check to see if "Claim This Business," "Is this your business?" or "Work Here?" appears anywhere on the profile page. Then simply follow the site's instructions for claiming.

Here is a group of articles we've written on how to claim various review site profiles.

Mark as "Responded" or "In Progress"
Once you're ready and on your way to responding to reviews, don't forget to label the review as "In Progress" or "Responded". Just click the drop-down and choose the status of your choice.

Doing this eliminates the possibility of duplicating your review response efforts if you have multiple people on your team monitoring and responding to reviews for the same location(s).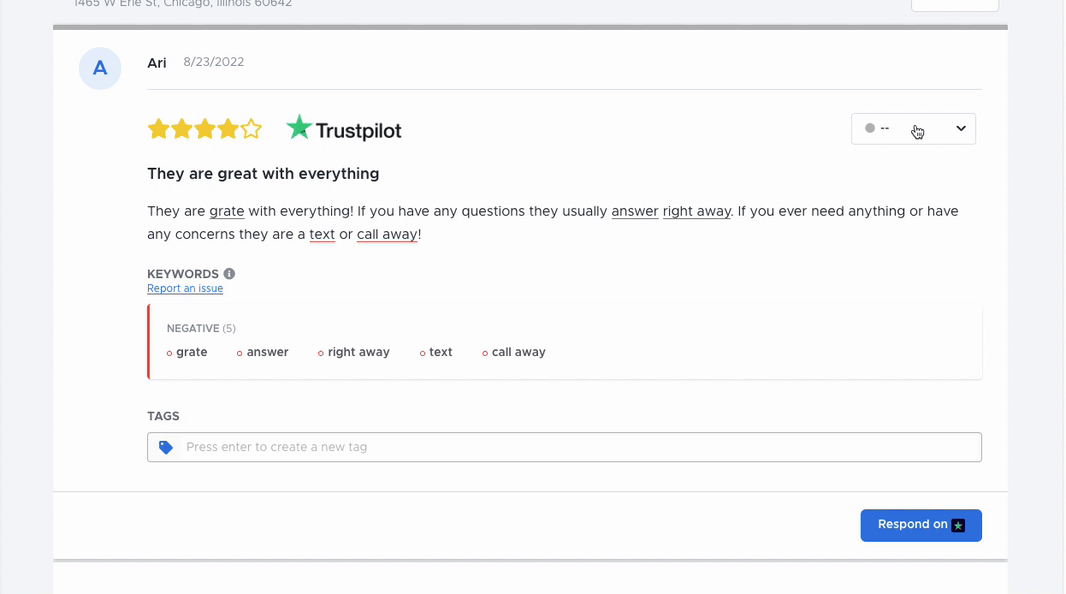 Private Notes
You can also leave an internal comment for your team, such as "Reached out to customer and resolved issue, they are very happy now!" Notes are included in reports, so this is also a great way to save responses to reviews for future reference!


When you're done with this review, click "All Reviews" to return to your full list of reviews.
The Reviews section allows you to easily respond, track and download data on customers' ratings and comments. If you have any questions, please contact support@reviewtrackers.com. Happy tracking!