We know you spend time responding to all types of reviews (positive and negative) with two goals in mind:
Making sure the

individual

is being heard and getting their issue/praise resolved

Demonstrating publicly that you're listening/hearing the voice of your customers and

making actionable changes to improve your business
With this knowledge, we know (and have heard from our customers) that there is a desire to make responding more efficient.
What is Smart Response?
Smart Responses are templates that users can use to quickly respond to a review. This makes responding faster and makes sure the response stays on brand and uses approved language. Smart response templates can be used to respond to Google and Facebook reviews in-app, or can be used to respond directly on the source through our chrome extension.
How does it work?
User navigates to a Google/Facebook review from the review-detail page.

A drop-down will appear with the pre-approved response templates for that review type.

Select a response from dropdown and it will populate in the response field.

Modify the response text before hitting 'submit' if you would like to personalize the response (recommended!)

Click submit and the response will be posted on the source.
The best part about these Smart Responses is that the templates can still be further customized. With Smart Response, you get the time-saving aspect without losing the critical customization piece.

Get started:
In order to begin to use Smart Response templates to respond in-app, you must be successfully integrated with Google and Facebook.
Can't integrate? That's okay too, just use our chrome extension instead of responding in-app.
Setting Up Smart Responses
Admin users can create, edit & delete review response templates under 'Settings'.
An Admin can create as many smart response templates as they would like. These templates can be assigned to be used for positive, negative, or neutral reviews. These templates can be used across the entire account or specific to a location so keep that in mind when naming your templates and customizing the content.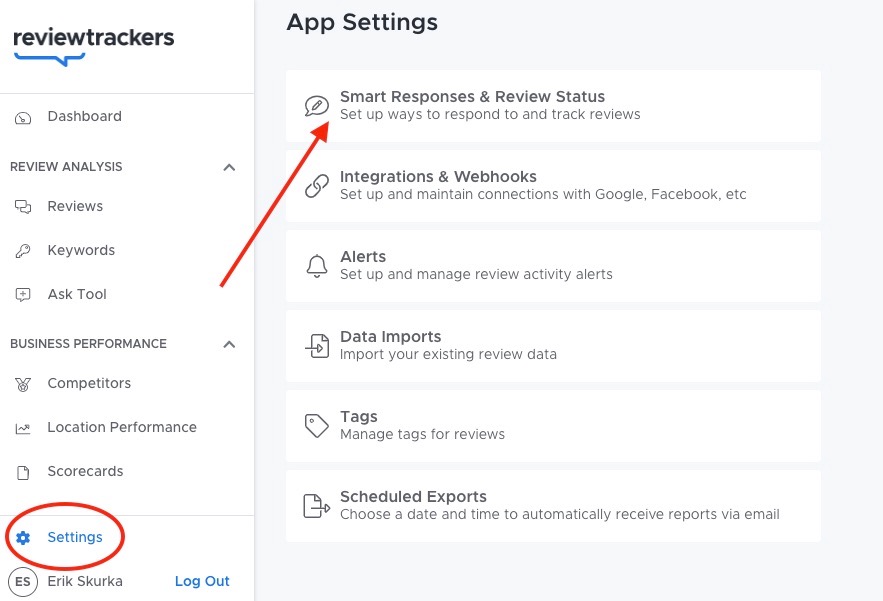 Create or edit a new Smart Response Template:
Click the blue 'add a new smart response' button.
Add in the name, content, and select the review type. You can customize responses by positive or negative reviews and also by rating-only or reviews with content.
You can also customize your responses for a specific location if they have specific branding or language. Just click "assign to a specific location or group" and select your location!
Turn to auto-respond if you want the response to post automatically (learn more about auto-respond below!).
Click save!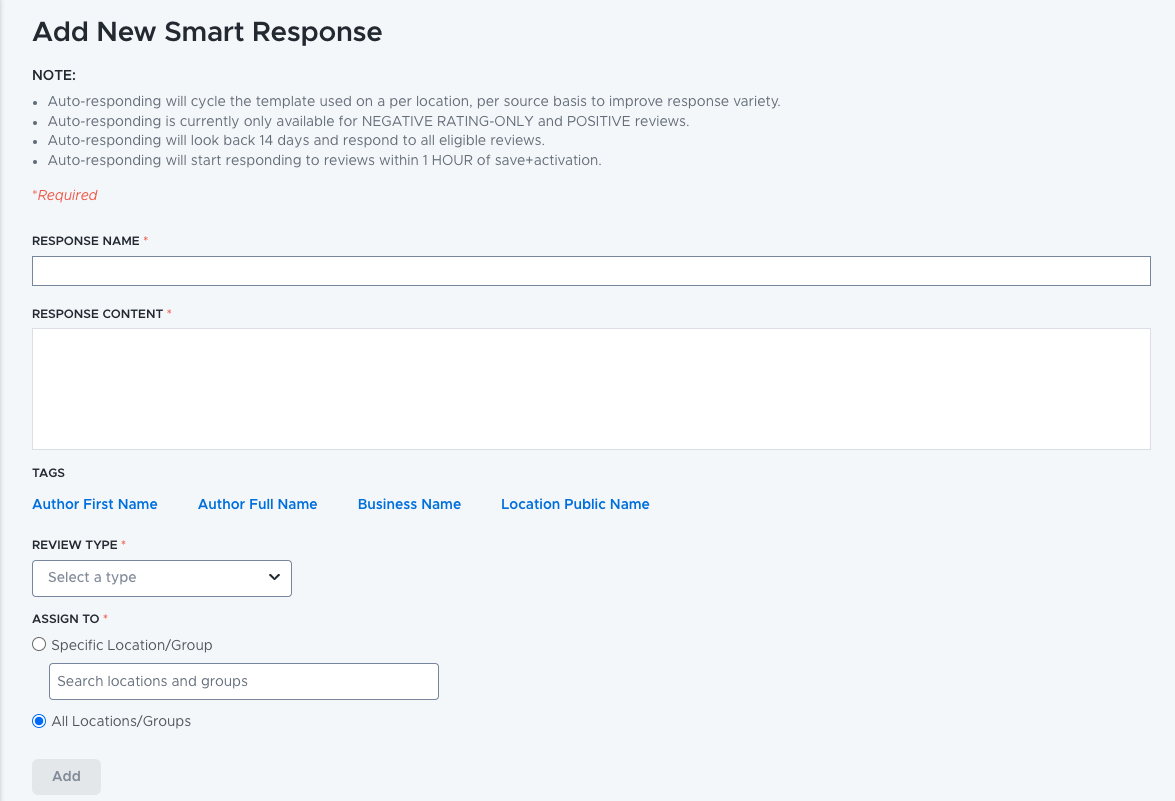 Introducing Auto-Respond
Want to take even MORE time out of responding?
Good news! You're in luck. With Auto-Responding, we've completely taken the "middleman" out of responding to positive reviews on Google and Facebook (again, only for successfully integrated accounts). When a new positive Google or Facebook review comes into ReviewTrackers, we'll automatically respond within 15 minutes.
Responses set to auto-respond will automatically post the exact content in the template to a review of that type (i.e. auto-responded templates cannot be personalized!).
If you add in multiple templates, we randomly cycle through all templates to make your responses look different over time.
We recommend using auto-respond for those positive rating-only reviews! When a customer gives you 5 stars on Google but doesn't include any text in the review, auto-responding will respond for you so the customer feels heard, but without any extra work on your end. Since the customer didn't say anything specific, there's nothing to personalize a response to!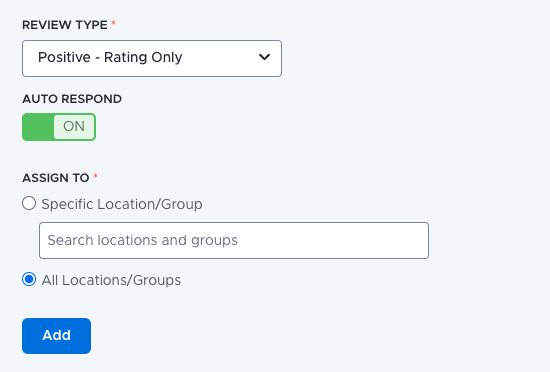 So far, our customers who are using Smart Response Templates are loving the feature and saving tons of time in their responding efforts.
Reach out to your dedicated Customer Success Manager at support@reviewtrackers.com to learn more or with any questions!