We know ReviewTrackers users spend time responding to reviewers of all types (positive and negative) with two goals in mind:
Making sure the

individual

is being heard and getting their issue/praise resolved

Demonstrating publicly that they're listening/hearing the voice of their customers and 

making actionable changes to improve their business
With this knowledge, we know (and have heard from our customers) that there is a desire to automate the responding process.
What is Smart Response? How does it work?
Smart Response allows the Admin of the account to create templates that their team can use to quickly respond to reviews on Google and Facebook. Admins can create up to 25 templated responses for positive, neutral, and negative reviews.
We deliberately set this up so that only Admins could create the templates. We feel that by allowing fewer users to add templates, they will stay more organized and represent one voice.
When the Admins create templates for their team to utilize, it greatly reduces the amount of time it takes to respond to an individual review.
Workflow for Smart Suggest:
User navigates to a Google/Facebook review from the review-detail page within ReviewTrackers

A drop-down will appear with the pre-approved response templates which were set up under 'Settings'

When user selects response from dropdown, it populates in response field

User has the option to modify template before hitting 'submit'

Submit and it will post response as normal
 The best part about Smart Response (in my opinion) is that the templates are still allowed to be customized. With Smart Response, you get the time-saving aspect without losing the critical customization piece.
To get started using Smart Response Templates:
In order to begin to use Smart Response templates, each account must be successfully integrated with both Google and Facebook.
 Not yet integrated? That's okay! Read how to get integrated here.
 As soon as your account is integrated, please contact your Customer Success Manager by emailing support@reviewtrackers.com, and they will turn on the Smart Response feature for you.
 Note: All locations and ratings are eligible for Smart Response Templates. However, only the Account Admin will have the ability to author and approve of response templates.
Setting Up Smart Responses/Auto Responses
Admin users can create, edit & delete review response templates under 'Settings.' See screenshots below.

Create new Smart Response Template: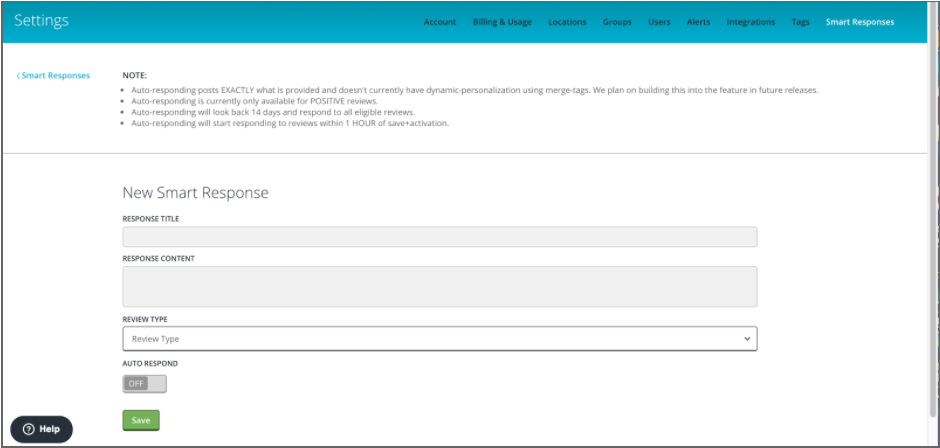 Edit/Delete Smart Response Template: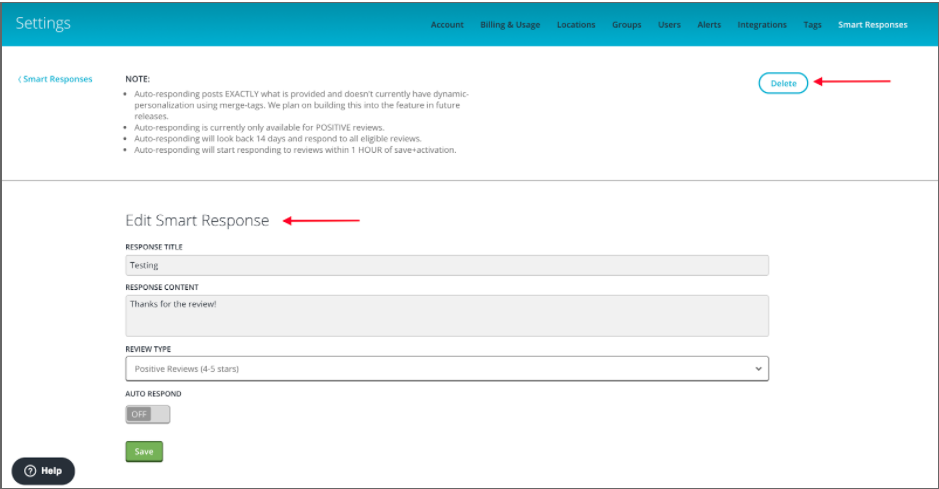 So far, our customers who are using Smart Response Templates are loving the feature and saving  tons of time in their responding efforts.


Reach out to your dedicated Customer Success Manager at support@reviewtrackers.com to learn more about Smart Response Templates!
Introducing Auto-Response:
Want to take even MORE time out of responding?
Good news! You're in luck. With our Auto-Responding feature, we've completely taken the "middleman" out of responding to positive reviews on Google and Facebook (again, only for successfully integrated accounts).
With Auto-Responding, the Account Admin can choose which locations within the account are eligible for auto-responding. Like Smart Response Templates, the Account Admin will create the content. This time, however, the responses are unable to be customized.
The Auto-Responding tool will automatically loop through all of the positive responses on a per-location basis. Meaning, the templates the Admin creates will be circulated evenly to make the response look more authentic.
How It Works:
When a new Google/Facebook review comes into ReviewTrackers, and the location is eligible and integrated, we'll automatically respond within 15 minutes with a positive templated response.
We will "round-robin" the responses to avoid the same message getting posted over and over again on a per-location basis.
Questions about implementing Auto-Response? Contact us at support@reviewtrackers.com and we'll have you up and running in no time!