Asking for online reviews and customer feedback from the right customers at the right time is crucial to getting higher response rates and greater ROI for your campaigns.
Over-soliciting your customers for feedback or reviews may result in them being less likely to participate, and less likely for them to provide positive feedback or reviews.
This is why we created Over-solicitation Protection, which allows your customers to receive only one feedback request email from your account per month (30 days).
As an example, an individual receives a review request from a location they visit. If that individual then visits the same location or a different location in the same organization within 30 days, the individual would not receive the second review request email.
Over-solicitation Protection has been automatically turned on for every account. However, if you would like to change or edit your account preferences, please contact your dedicated Customer Success Manager and they can customize the amount of days in between each request for you.
What does this look like in the dashboard?
To see if an email has not been sent due to Over-solicitation Protection, follow the steps below:
1. Click on the "Ask Tool" tab on the left side of your dashboard page under "Review Analysis".
2. Select the "Campaigns" subsection.
3. Choose a campaign to see a summary similar to the photo below:
4. Find the email believed to have been stopped.
5. Hover over the black circle next to the email, and see if it was blocked due to Over-solicit Protection.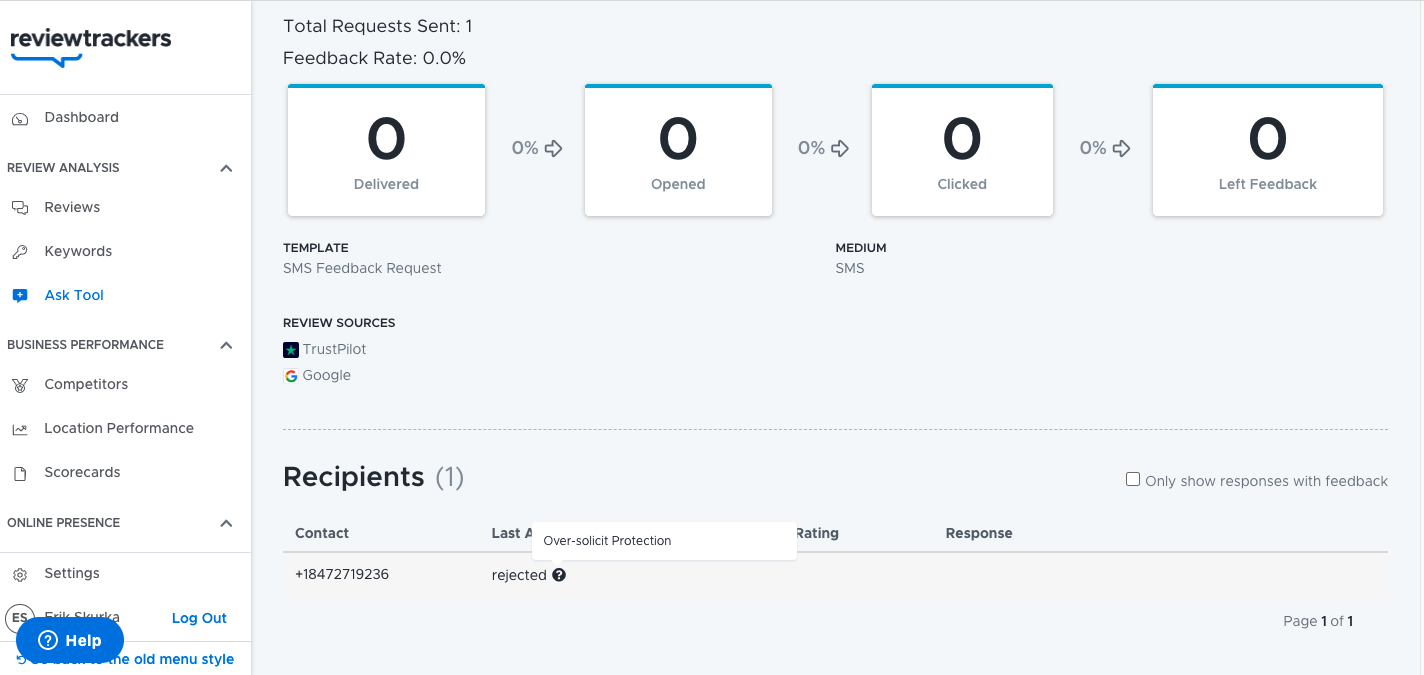 If a recipient is prevented from receiving a campaign, it is added to the "Sent" total in metrics, but individual recipients are marked as "rejected" due to Over-solicitation Protection.
Please email us at support@reviewtrackers.com if this protection does not fit your business model, or if you wish to change your settings. Your Customer Success Manager will happily update your preferences.