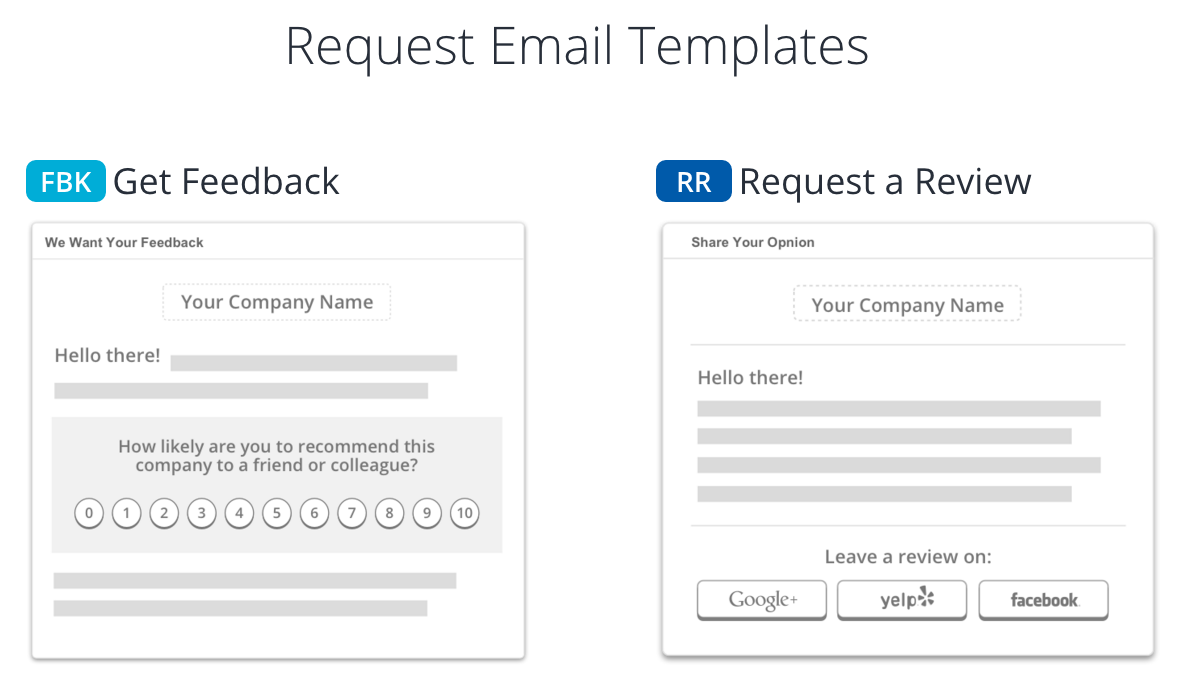 The Feedback and Review Request templates have been revamped!
New workflow makes it even easier to generate customer feedback in just a few clicks. 
Fully responsive for any device your email is viewed on.
Colorful logos are now included for each review site you choose.
The Feedback survey is placed directly in the email to increase engagement.
"Which template should I use?"
Use a Feedback template if...
you aren't sure how your customers felt about their experience
you are concerned about the risk of having a recipient write a negative review
you want to reliably measure customer satisfaction using an NPS score
you want to direct happy customers to specific review sites
Use a Review Request template if...
you have already surveyed these recipients beforehand
you know the customers receiving the request were thrilled with their experience
you wish to minimize the number of steps for your customers to leave a review
you want to direct all customers to specific review sites
Feedback Templates 
When sending your customers a request for Feedback, they'll be prompted to take a short survey of their experience. The survey is now hosted directly within the email on desktop and mobile devices.
Click here for a step-by-step guide to sending Feedback Requests.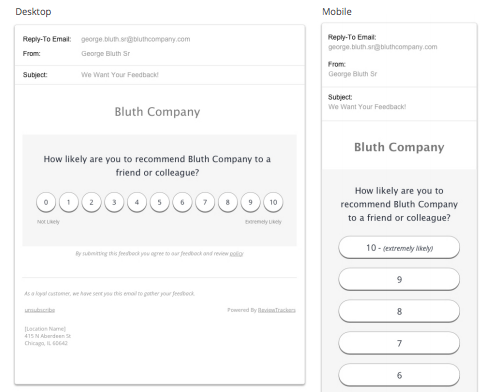 Encourage your promoters to leave a review.
If your customer chooses a score of 7-10, they'll be encouraged to leave a review on the site of their choice.
Note: Similar to the review request tool, you'll be able to select up to three sites they can choose from. This gives you the ability to push positive reviews to sites where you may need to dilute negative reviews.
Gain insights from negative experiences to help you make better business decisions.
If the customer selects a score of 0-6, they'll be asked to give more details about their experience in a comment box: details that are only shared with you internally.
They can also choose to share their contact information with you so that you can reach out to them and resolve customer issues.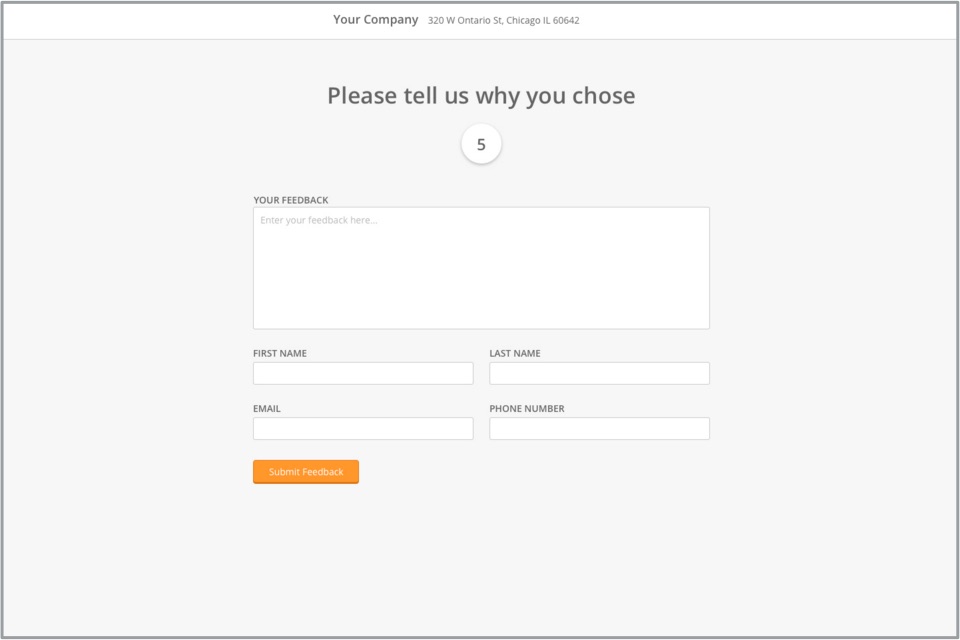 Note: If a customer chooses not to enter their contact info, their rating, comments, and email address will still be collected in your ReviewTrackers account. 
Review Request Templates
If you're confident that your customers are happy, keep it short and sweet with a Review Request template.
Each recipient is only one click away from sharing a review and boosting your online presence!
Click here for a step-by-step guide to sending Review Requests.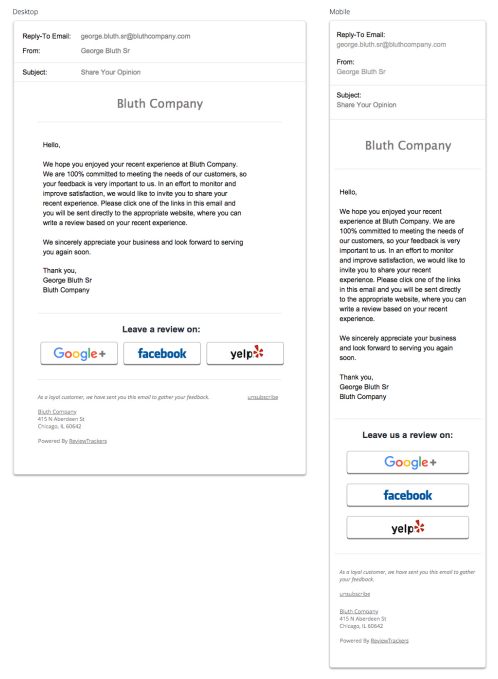 Prompt your customers to share their feedback or leave a review through a direct URL. 
Aside from emails, you can also direct your customers to a unique URL to request feedback or reviews. Each business location you're tracking has its own unique URL for both the survey tool and review request landing pages. Head here to learn where to find them! 
Pro Tip: Think about the various ways your organization can ask someone to share their feedback via the URL. Some ideas include: sharing the URL on social media posts, email signatures, printed receipts, company website, blog, wifi login page, and more.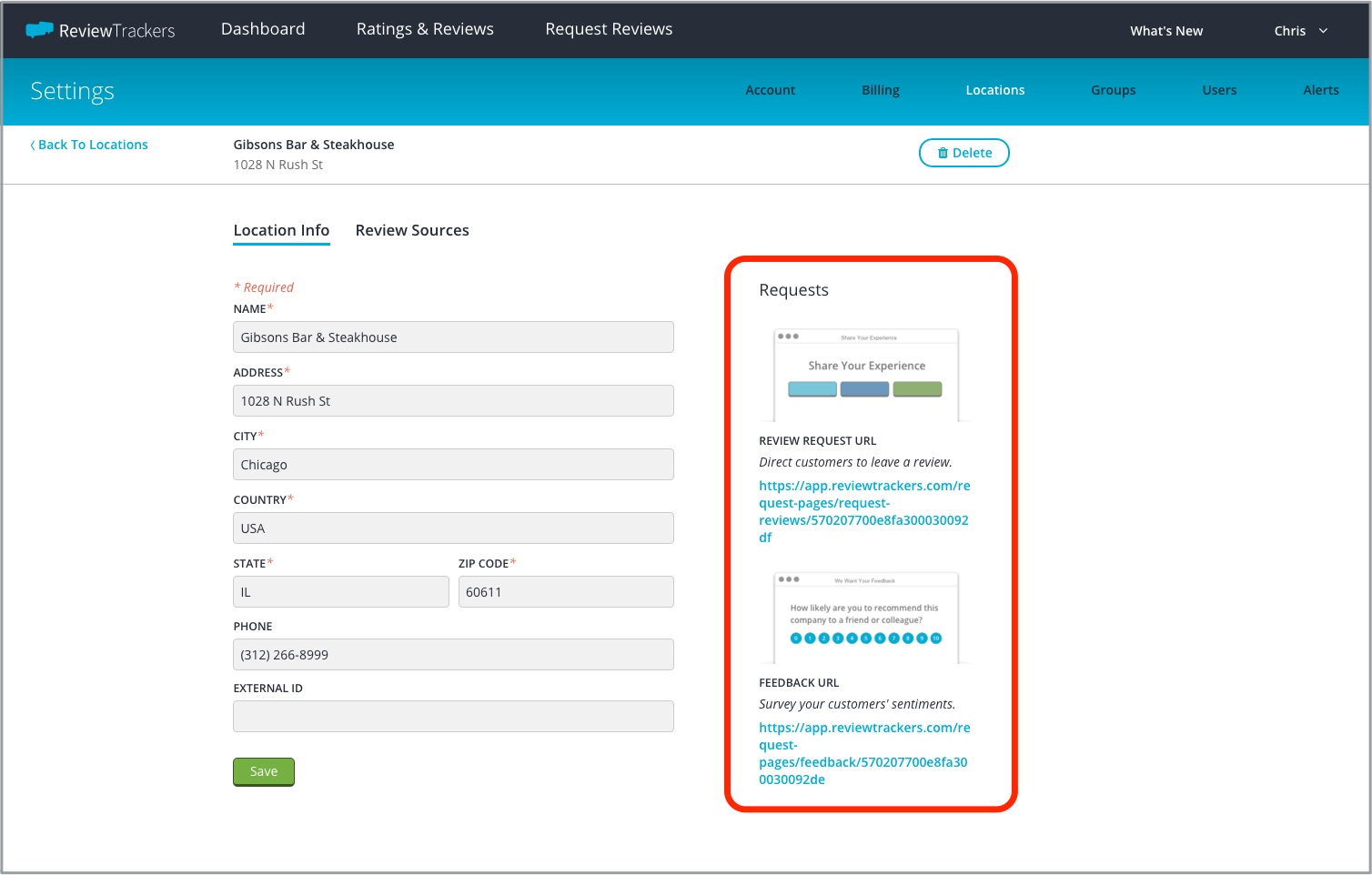 Accessing Your Feedback
We treat the collection of your Feedback survey results just like all other reviews and ratings we collect.
To start, any user associated with the location was rated will receive an email alert when a new survey response is collected. (Note: This only applies to users who have alerts enabled.)
Feedback ratings can be accessed via the "Ratings & Reviews" tab and are also displayed visually through the Dashboard graphs.